Keynote Speakers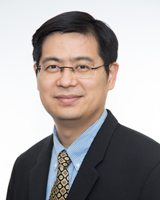 Prof. Xiaowen Fu, The Hong Kong Polytechnic University, China

Dr. Xiaowen Fu is a Professor in Engineering Management in the Department of Industrial and Systems Engineering, the Hong Kong Polytechnic University. His main research area is transport economics and management. He has provided advisory and modelling services to organizations such as the Boeing Commercial Aircraft, New Zealand Commerce Commission, Australian Competition and Consumer Commission, Government of British Columbia in Canada, Australian Competition Tribunal, Hong Kong Transport and Housing Bureau, Japan Rail (East), and OECD. He is an editor of the journal of Transport Policy, Vice President (Research) of the Air Transport Research Society, Vice President (Research) of the Institute for Aviation (UK), founding chair of the Maritime Economy and Policy stream of the World Transport Convention, and an honorary professor of the University of Sydney Business School.
Prof. Hajime Tozaki, Waseda University, Japan
Prof. Hajime Tozaki was born in Osaka in 1963, Dr. Tozaki is Professor at the Organization for Asian Studies, Waseda Business School, Waseda University, Japan. He graduated from Kyoto University, where he majored in economics. He worked for Japan Airlines between 1986 and 1994. He pursued doctoral studies in business administration at the University of Glasgow, and, in 1995, received his PhD in economics from Kyoto University. He has been an associate professor at Teikyo University and a professor at Meiji University. His published works include Johoka jidai no koku sangyo (Aviation Industry in the Information Age) and Koku sangyo to raifurain (Aviation Industry and Lifelines).