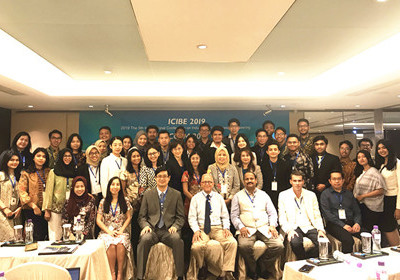 欢迎进入2020年第6届工业与商业工程国际会议官方网站。此次会议将于2020年9月27 - 29日在中国澳门举行 。
商业工程学是以工程化方法将各种管理理论共冶一炉,提供整体、全面的企业管理决策解决方案,通过它的核心理论和管理工具,真正解决教育、学习和商业应用相结合的问题,以根本、综合、整体、系统的原则、方法,推进与实现管理专业化。
而ICIBE旨在汇聚研究人员,科学家,工程师和学者,交流和分享有关 工业和商业工程各个方面的经验,新想法和研究成果,并讨论所遇到的实际挑战和所采取的解决方案。 会议将每年举行一次,使之成为人们分享 工业与商业工程及相关领域的观点和经验的理想平台。
有关会议日程的更多详情,请随时通过icibe@iedrc.net 与我们联系。
受新型冠状病毒疫情影响,会议接收在线和视频报告。请与会议秘书联系以获取更多关于在线和视频报告的详细信息。
"The 2020 6th International Conference on Industrial and Business Engineering "
Due to the outbreak of the coronavirus, Online/Video Presentation are acceptable on the conference. Online presentation session will be arranged accordingly. Please contact the conference secretary for more information about Online/Video Presentation. Participants are required to wear face mask when attending the conference. And conference staff will check the body temperature and take other active action.
Welcome to the official website of the The 2020 6th International Conference on Industrial and Business Engineering (ICIBE 2020), which will be held during September 27-29, 2020 in Macau, China.

ICIBE 2020 aims to bring together researchers, scientists, engineers, and scholar students to exchange and share their experiences, new ideas, and research results about all aspects of Industrial and Business Engineering, and discuss the practical challenges encountered and the solutions adopted. The conference will be held every year to make it an ideal platform for people to share views and experiences in Industrial and Business Engineering and related areas. For more details of the conference schedule, please feel free to contact us at icibe@iedrc.net. The full version of program will be given in October.
Notes: If the conference cannot be held on time due to the force majeure such as politics, weather and disasters, the organizer shall have the right to postpone or cancel the conference. Participants are required to comply with the organizer's arrangements and refund policy.
Call for Contributions
All honorable authors are kindly encouraged to contribute to and help shape the conference through submissions of their research abstracts, papers and e-posters. Also, high quality research contributions describing original and unpublished results of conceptual, constructive, empirical, experimental, or theoretical work in all areas of Industrial and Business Engineering are cordially invited for presentation at the conference. The conference solicits contributions of abstracts and papers that address themes and topics of the conference, including figures, tables and references of novel research materials. It is also our privilege and pleasure to invite you to participate as sponsors, exhibitors, or Audience. We hope that the conference results in significant contributions to the knowledge base in Industrial and Business Engineering scientific fields.
Publication
Accepted excellent papers by ICIBE 2020 will be published by ACM, which will be archived in the ACM Digital Library, and sent to be indexed by EI Compendex and Scopus and submitted to be reviewed by Thomson Reuters Conference Proceedings Citation Index (ISI Web of Science).
iSBN: 978-1-4503-8788-0
ICIBE 2017| ISBN: 978-1-4503-5351-9 | ACM Digital Library | Indexed by: EI Compendex, Scopus
ICIBE 2018| ISBN: 978-1-4503-6557-4 | ACM Digital Library | Indexed by: EI Compendex, Scopus
ICIBE 2019| ISBN: 978-1-4503-7653-2 | ACM Digital Library | Indexed by: EI Compendex, Scopus
Latest News
September 03, 2020
Welcome Prof. Hesmeralda Rojas, Universidad Nacional Micaela Bastidas de Apurimac, Peru to join in the conference technical committee of ICIBE 2020. (Click)

August 11, 2020
Welcome Dr. Michael N. Young, Mapua University , Philippines to join in the conference technical committee of ICIBE 2020. (Click)

August 6, 2020
The submission deadline of ICIBE 2020 has been extended to August 25th, 2020.

July 09, 2020
Welcome Prof. Juo-Lien Wang, Chaoyang University of Technology, Taiwan to join in the conference technical committee of ICIBE 2020. (Click)

July 06, 2020
The submission deadline of ICIBE 2020 has been extended to August 05th, 2020.

April 8, 2020
Welcome Assoc. Prof. Jingzhi Guo from University of Macau, China to be one of the conference chairs. (Click

April 06, 2020
Welcome Prof. L. Roger Yin from University of Wisconsin-Whitewater, USA to be one of the conference chairs. (Click)